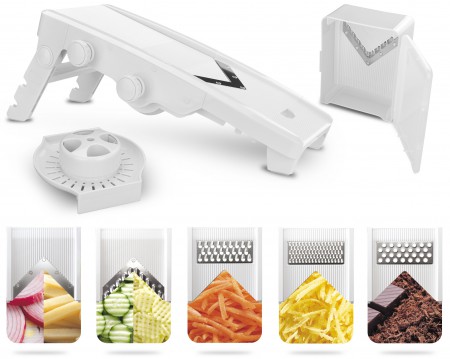 Surpahs V-Blade Mandoline Adjustable Slicer - 5 Stainless Steel Blades - Vegetable and Fruit Slicer, Vegetable Shredder, Spice, and Nut Grater – Professional Grade – Includes Hand Guard and Blade Box
Model No.: WLVS-0105H
UPC: 603786297130
Feature:
COMPLETE 5 in 1 Mandoline Slicer Kit includes: 5 BLADES: julienne slicer, waffle cut slicer, grater, coarse shredder, and fine shredder; Hand guard; Blade storage box
Cut prep time significantly! Our V Blade design slices, grates, and shreds. SLICE cucumbers, potatoes, tomatoes, carrots, zucchini, pears, apples, citrus garnish. GRATE ginger, nutmeg, chocolate. SHRED cabbage, carrots, vegetables for salad
Use more fresh sliced veggies in your favorite foods! Make salad toppings, pizza toppings, onion rings, French fries, potato chips, vegetable pasta, coleslaw, zucchini bread. KIDS love julienned vegetables! Great for vegetarian or vegan recipes.
Knob-controlled slicer allows you to EASILY ADJUST slicing thickness from 1-9mm; Slice from paper thin to thick. Get CONSISTENT results with every slice. Professional grade blades are 420-grade surgical stainless steel
Blades are sharp, always use hand guard. Hand washing recommended- simply rinse under running water. Store blades in blade box for safety. Lifetime Warranty