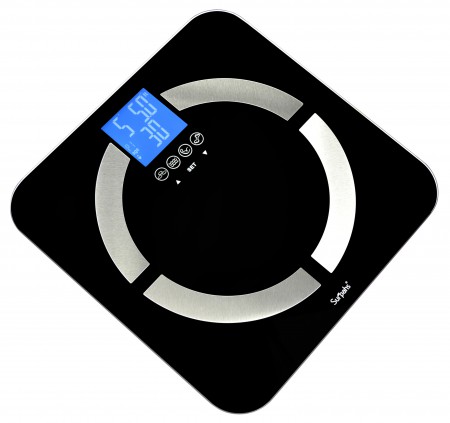 Surpahs Sense-ON Multifunction Digital Bathroom Scale, 400 lb - Body Fat Monitor - Measures Body Weight, BMI, Body Water, Muscle & Bone Mass - 8 Users Auto Recognition (Black)
Model No.: BFS-835-BK
UPC: 0799804359307
Feature:
Ultra thin slim special creative design with only 0.7 inches (18mm) thickness body.
Powered by reliable Bio Impedance Analysis (BIA) technology measures Body Fat, Hydration levels (Body Water), Muscle and Bone mass within seconds.
New Sense-ON technology gets instant readings without touching any button to turn on
400 lb capacity, automatic identify up to 8 profiles, the best choice for family usage
3.5 inches extra large LCD display bright digits with blue backlight. Auto Calibrated; Powered by 2 x CR2032 Lithium Batteries
Description
2010 Reddot Design Award, the device holds up to 8 user profiles, with its 12.25" (31.10 cm) square tempered glass platform and 0.70" (18mm) thickness, sleek, low-profile design and its ability to monitor personal fitness levels, it is a perfect tool for any family.
Important Statement of BIA Technology and Accurancy
Powered by the latest Bio Impedance Analysis (BIA) technology with 4-electrodes to estimate the percentage of body fat, body water, and muscle & bone mass. BIA is considered reasonably accurate for measuring groups, or for tracking body composition in an individual over a period of time, but is not considered sufficiently accurate for recording of single measurements of individuals. As BIA is based on body water balance, your state of hydration can impact the level of accuracy. Overall the BIA provides an inexpensive, reliable way to estimate and track body fat level. To receive the most accuracy, please do not measure body fat within 30 minutes after a meal, or 120 minutes after an exercise.
Specifications
Size: 12.25" x 12.25" x 0.7" (31mm x 31mm x 18mm)
Weight Capacity: 180 kg / 397 lb
Weight Unit: kg /lb
Weight Graduation: 0.1 kg / 0.2 lb
Body Fat Graduation: 0.1%
Height Range: 3'3.5" - 7' 2.5" (100-220 cm)
Age Range: 15 - 85 years of age
8 Users profile memory
Athlete mode
Auto step ON and OFF
Low battery indication
Over load indication
Satisfaction Guaranteed
It is backed by a 100% satisfaction guarantee.