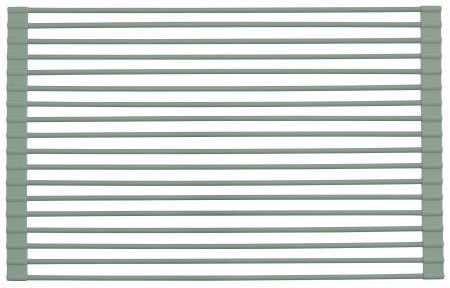 Surpahs Over the Sink Multifunction Roll-Up Dish Drying Rack (Smoke Green)
Model No.: MR-1510-SG
UPC: 0799804359628
Feature:
Multifunction space-saving over the sink drying rack, kitchen prep work platform, heat resistant trivet mat.
Smoke Green color, perfectly matches popular kitchen painting color themes.
Made by silicone-coated steel, rustless, non-slip and durable. Friendly to glassware, china, ceramic, porcelain.
Heat resistant up to 400°F (204°C), BPA-Free, Dishwasher Safe.
Rolls up for easy storage. Size: 20-1/2"L x 13-1/8"W x 1/4"H (52 cm x 33.3 cm x 0.6 cm)
Description
This is a brilliant multifunction kitchen gadget tool perfectly for many kitchen task, you will be surprised and love it!

Convenient and ideal for air-drying any washed tableware, cookware, bakeware, stoneware, flatware, kitchenware and fragile glassware.

Sturdy over the sink drying rack for holding heavy pots, fry pans, China, ceramic, porcelain.

Simple over-the-sink cooking prep works platform that can hold a cutting board for cutting, filling liquid containers (coffee cup, babies milk, etc.) or powders, pancake or cake mix, etc. makes mess right into the sink.

It can also hold wet vegetable and fruits temporary like a salad colander or vegetable washing bowl.

More tasks such as putting frozen items on there to thaw, handing wash cloths and sponges to dry much faster on it, holding bread, cake to dry like a cooling rack much quicker.