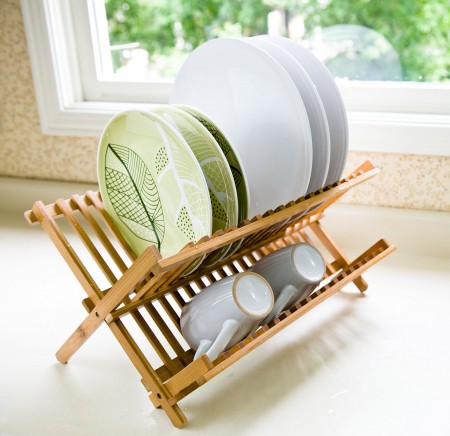 Surpahs Natural Bamboo Collapsible Dish Drying Rack
Model No.: SBJS-7863-16
UPC: 799804359956
Feature:
Improved constructions, 16 slots securely in natural way to dry dishes, cups and kitchen utensils.
Two levels self supporting racks for maximum capacity.
Fold up quickly for easy storage and save space.
Made of 100% organically grown bamboo. Hand washing and drying recommended
Backed by Surpahs 100% satisfaction guarantee program.
Description
Made of eco-friendly natural bamboo, allows your clean dishes to dry thoroughly. The top rack space for up to 16 dinner plates. The bottom additional rack is for cups, glassware, pots or utensils. It can fold up for easy storage when not in use.

Harder and lighter than maple.
Less moisture absorbency than traditional hardwoods.
Perfect and durable.
Resists odor and bacteria.
Natural beautiful finish.
FDA certificated.
ECO friendly.