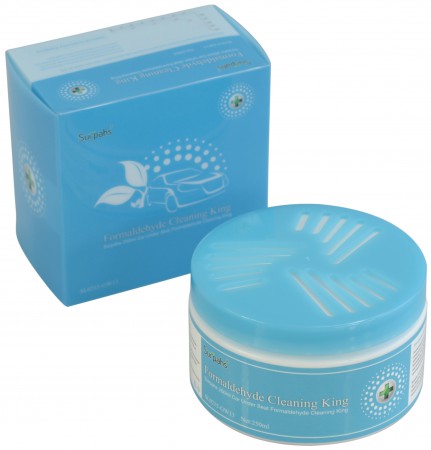 Surpahs Formaldehyde Eliminator, Air Freshener, Natural Fresh Pine Scent (250 ml)
Model No.: SL0215-GW13
UPC: 799804359567
Feature:
Formaldehyde elimination rate can reach 97.6%
Developed with the Japanese advanced extract technology
Material extract from Hokkaido pine tree. Non-toxic natural fresh pine tree scent
Perfect for car interior and new painted rooms. Capacity: 250ml.
Beyond the Amazon's A-Z protection, 100% satisfaction guaranteed.
Description
Formaldehyde is a pungent odor and toxicity of organic compounds. It is widespread. It can cause chronic poisoning if we often absorb small amount of formaldehyde. Formaldehyde is a kind of toxic chemical and confirmed by the world health organization as carcinogenic substances and cause deformity.

Surpahs Formaldehyde Cleaning King is developed with the Japanese advanced extract technology, extract the material from Hokkaido pine tree, it can purify the air and remove the formaldehyde as forest purification. 3rd party testing report shows that the formaldehyde elimination rate can reach 97.6%.

Product clarification: Remove formaldehyde
Intended purpose of use: In the car
Ingredient: imported formaldehyde remover,
Polymer Date of manufacture and Due Time: Shown on the packaging
Capacity: 250ml
Shelf time: 3 years
Cautions: - Don't eat. Keep out of reach of children.
- Always keep in upright position.
- If leaked, clean up immediately or the contents may cause staining.
- Never use for other applications.
- Keep the product away from fire, heat and direct sunlight.