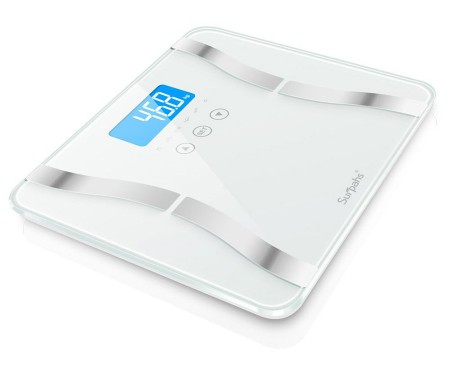 Surpahs DS2 2016 Body Fat Scale, 4 User Recognition, Measures Body Weight, Fat, Water, Calories, Muscle and Bone Mass
Model No.: DS2
UPC: 603786297161
Feature:
4 G-Sensors supports high precision body weight measurement up to 330 lb/150 kg
Beautiful Twin-S Electrode design, small rectangle high tempered glass platform 11"x9.6" (28 cm by 24.5 cm) best for ladies and girls.
Latest Bio Impedance Analysis (BIA) technology with 4-electrode measurement, estimates body fat, body water, muscle & bone mass, and kcal (total amount of Kilocalories to consume each day in order to keep body weight)
3.25" extra large nice blue backlight LCD screen. Automatic identify up to 4 users (2016 version, auto reset data). powered by 4xAAA batteries (included).
100% satisfaction guarantee. 100% worry-free guarantee. [NOTE: Please use the scale on hard floor only. Please add a hard board underneath if use it on soft surface such as carpet]
Description
This is an upgrade version of the original Surpahs DS1 model body fat scale, feature added: auto reset data.

This multi-function digital body fat scale provides accurate body weight measurement and tracks body fat, total body water, muscle mass, bone mass, and kcal, it tells you how much kilo-calories you need to consume each day to keep your body weight. It hold up to 4 user profiles, 11x9.6 inches retangle high tempered glass platform and 0.90" (23mm) thickness, sleek, low-profile, modern design and its ability to monitor personal fitness levels, it is a perfect tool for any family.
NOTE: BIA Technology and Accuracy
Powered by the latest Bio Impedance Analysis (BIA) technology with 4-electrodes to estimate the percentage of body fat, body water, and muscle & bone mass. BIA is considered reasonably accurate for measuring groups, or for tracking body composition in an individual over a period of time, but is not considered sufficiently accurate for recording of single measurements of individuals. As BIA is based on body water balance, your state of hydration can impact the level of accuracy. Overall the BIA provides an inexpensive, reliable way to estimate and track body fat level. To receive the most accuracy, please do not measure body fat within 30 minutes after a meal, or 120 minutes after an exercise.
Specifications
Size: 11x9.6x0.9" / 280x245x23mm
Weight Capacity: 150 kg / 330 lb
Weight Unit: kg /lb
Weight Graduation: 0.1 kg / 0.2 lb
Body Fat Graduation: 0.1%
Battery: 4xAAA
4 Users profile memory
Sense-ON, Auto-OFF
Low battery indication
Over load indication
Satisfaction Guaranteed
Surpahs 100% satisfaction guarantee. 100% worry-free guarantee.
Registered customer receives extended warranty.