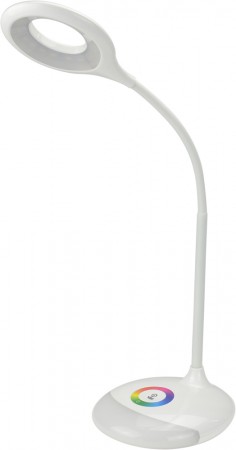 Surpahs Color Lighting Base Rechargeable Dimmable LED Desk Reading Lamp
Model No.: SLED-004-NC
UPC: 799804359819
Feature:
Touch control for easy operations: Touch to Turn ON / OFF, Touch and Hold for No Dazzling Multi-levels of Brightness Adjustment. 1800 mAh rechargeable Li-on battery power for wireless operation lights up at least 3-6 hours.
18 pcs Energy-efficient LED bulbs are built in the round shaped lighting head, supporting evenly eye-friendly soft lighting.
Personalize the mood of your room's atmosphere with a full color spectrum of base lighting control, from pink, purple to yellow, blue.
Flexible and bendable lamp neck for simple light angle adjustment. 3750-4250K more comfortable light color for most people.
High-end quality, same factory who manufactures for Costco, Target, etc. Beyond Amazon's A-Z claim policy, you are also backed by Surpahs' 100% satisfaction guarantee program.
Description
- State-of-art LED lighting technology, no dazzling.
- Energy-efficient, Eye-friendly soft lighting.
- Touch key control panel, easy to use
- Multi-levels of brightness adjustment
- Built-in rechargeable 1800 mAh Li-on battery power for wireless operation lights up at least 3 hours.
- Includes a micro USB cord for charging and wired operation.
- Flexible and bendable lamp neck for any light angle adjustment easily.
- Customize base lighting colors and personalize the mood of the atmosphere.
Specifications:
Input : DC 5V/1A
Color Temperature: 3750 - 4250K
LED Life: 20000 hrs
LEDs: 16 pcs x 0.5w LED module
Luminous Flux: 280lm
CRI: > 80
Power: 4.0W
Battery Capacity: 1800mAH