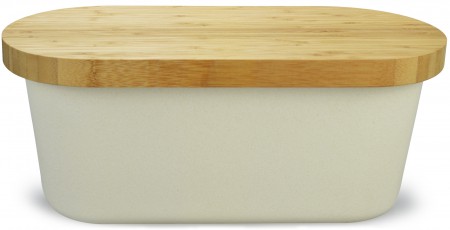 Surpahs Bamboo Fiber Bread Storage Box
Model No.: CBBL-1602
UPC: 603786297048
Feature:
Natural white box bread keeper, made of new material Bamboo Fiber, produced from bamboo pulp, hard, durable, light weight and eco friendly
The cover is natural bamboo made bread cutting board with grooved crumb catchers.
Measures 14.1 x 5.7 x 7.8 inches, stores up to 13.5" long baguette, croissant, ciabatta, french bread, and other pastries
Fresh, nice, natural texture appearance. Biodegradable and Eco-friendly. Note: Bread box but not the cutting board cover is dishwasher-safe.
100% satisfaction guarantee, 100% worry-free guarantee.
Description
This Eco-friendly bread bin features simple design, works seamlessly in any modern, contemporary or vintage kitchen styles. Holds and keeps baguette, bread, bagels, snack bars fresh, moisture-free and organized.