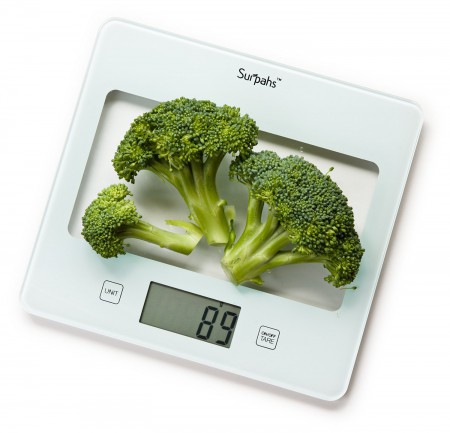 Surpahs Touch Tempered Glass Precision Digital Kitchen Food Scale (White/Transparent, 11 lb/5 kg)
Model No.: STT-1040
UPC:
Feature:
[Clearance Sale] Thinner, simple, stylish, elegant design. Set your desired display Unit in pounds, kilograms, grams and ounces (lb./oz., kg/g, fluid oz., ml)
Safety high tempered glass surface easy to clean, lightweight and portable.
4 high precision sensors to support accurate weigh measuring from .1 oz. to 11 lbs. (1 g to 5 kgs).
Sophisticated TARE function, one touch and automatically zero out weight, subtracts the weight of any bowl or container and get net weight of your ingredients.
Auto turn off in 60 Seconds. Powered by 1xCR2032 lithium battery (included), 100% product and shopping satisfaction guaranteed.
Description
Make measuring and clean up as easy as possible in your kitchen with the Surpahs Touch Ultra-Thin Tempered Glass Digital Kitchen Food Scale. This stylish and elegant scale featured a large LCD screen and a tempered glass design that cleans up quickly. With this lightweight and portable scale, you can measure food at home, at work, or while traveling, allowing you to stay fit anywhere.

Specifications
Product Dimension: 200x183x16 mm /7.9x7.2x0.6 inches;
Capacity: 11 lb / 5 kg;
Graduation (Accuracy): 0.04 oz / 1 g
Min. Weight: 2 g / 0.004 lb Unit: g / lb:oz / ml / fl.oz
Screen: LCD, 56×25.5 mm /2.2x1 inches.

Platform: Tempered Glass
Operation: Touch Key
Auto Turn OFF: 60 Seconds
Low Battery Indication: YES
Overload Indication: YES
Battery: 1xCR2032 lithium battery (included)

Certification: CE, ROHS

SURPAHS Guarantee: 100% Guaranteed Product Satisfaction, 2 year manufacturer warranty. Customer satisfaction is our highest priority. Visit SURPAHS website or Scan QR code on product box to contact for support with our products.